Know how this Game-Changing technology shifted Industrial Catering Service in 2021
Conventionally, Industries or corporate companies always ensure to deliver quality food to their employees consistently. Good food makes the employees to get satisfied and motivates them to contribute more productivity towards the organization.
So obviously, it is the utmost responsibility of the employer or admin to pick the right industrial caterer for their organization to provide excellent food varieties with zero compromises in quality.
"I know once people get connected to real food, they never change back."

Alice Waters
Do you think all the caterers can perform the Industrial caterer role? Surely not, right?
Industrial catering is so crucial to handle because it involves delivering a large amount of food to a huge employee base routinely without losing the standards.
But wait. Don't get panic or confused.
It is not extremely difficult to pick the high standard industrial caterer in the market.
With the use of technology, we can pick the best industrial caterer in the crowd who matches our needs.
In this blog, we will come across the obstacles, solution statements to overcome issues of catering in industries, and a new super-easy game-changing technology in the world of Industrial catering.
Let's dive into it.
Obstacles in Industrial Catering :
Accomplishing perfect Industrial catering service involves more challenges to look on. Finding flaws, rectifying the same, and maintaining classy service involves more planning, coordination & monitoring systematically. Let us unzip all the hurdles & challenges involved in the Industrial catering business.
It is quite hard to pick the best caterer who provides constant quality food with perfect on-time delivery at a nominal cost.
Fewer menu varieties may dissatisfy the employee and get irritated to eat the limited menu routinely.
Since the breakfast, lunch, or dinner time is limited, more food servers are needed to serve food for a large employee base within the allowed time.
In some situations, the food quantity is insufficient to fill every stomach of employees, employers, and admins.
Since the food service involves a large consumer base, the cost of a meal must match the budget boundary of the organization.
All employees would get dissatisfied when the caterer does not promise to deliver the food within the right timeline.
The improper communication gap between the organization and caterers creates unwanted issues.
Arranging and managing the water supply, plates, dining tables, power facilities constantly would be highly challenging.
In 2021, it is mandatory to make covid 19 checks for all people who serve food for organization, and the hygiene strength should be monitored continuously.
The organization must check whether the caterer's food standards are certified by FSSAI (Food Safety and Standards Authority of India).
Solution Statements to overcome Hurdles in Industrial Catering :
In 2021, with the use of technology, we can overcome all the complications in Industrial catering services.
Now it's easy, simple, and fast in picking the best industrial caterer in Chennai who is ready to fulfill all your checklist needs just through your mobile phone by Websites & Apps.
Many industrial caterers have shifted to online catering where companies can place, track, pay and monitor orders seamlessly.
A variety of menus can be picked and altered at any time according to the requirements of employees.
When orders are placed, companies can easily track and monitor orders from food preparation to delivery
According to the company's employee base, food quality and menu can be customized at any time during the service.
Real-time reviews & ratings help organizations to choose the best caterer who excels in all crucial services like on-time delivery, meal quality & quantity, budget & variety of dishes.
Organizations can choose different menu sets right from budget meals to premium meals with zero compromises on quality.
According to employees' strength, the number of servants can be modified while placing orders.
How the Industrial Catering game is changed Now - A super Innovative Industrial Catering App
Now it's 2021 the traditional Industrial catering service is no more. The game-changing supermassive innovative technology applications are ruling the industry.
The Industrial catering App helps companies to analyze and choose the best caterer in the market. Provide all real-time information by saving a lot of time.
With the App, order management becomes so clear and comfortable where you can place, alter, & track orders in real-time and get analytical order reports for better clarity.
And Yes. We all know it's 2021. So Covid 19 checks are mandatory nowadays to deliver super hygienic food and service to your renowned industry.
You can watch the covid 19 check reports of the kitchen, chefs, and caterers in the App during the order monitoring phase.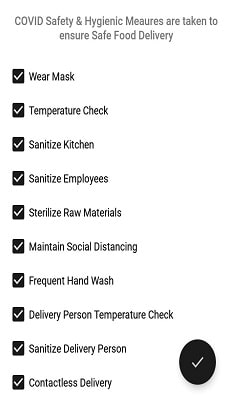 Features of Industrial Catering App :
Using "My Dashboard" you can manage your orders, select menu varieties, analyze covid 19 reports, & make special customized orders for your employees.
With just a few clicks, you can place and confirm orders through the app and track all real-time data right from food preparation to expected delivery time.
But remember, as we told before, food making and food delivery are done with proper covid 19 checks ensuring high-end safety and hygiene.
Analytical data reports help to get a better idea about order status, food preparation status, covid 19 status, expected delivery time, etc.,
You can customize your menu set according to the taste of employees, and you can alter or change your existing menu at any time during the service period.
With the use of a high-end innovative Industrial Catering App, you can provide top-class, safe, tasty, customized & hygienic food to your organization.
5. Convenience in event Location :
In 2021, thousands of searches made in Google for the phrase "catering near me". It is because people started looking for the most suitable caterer in and around the event location. Customers do not want to experience any mess in the transportation of eatables during the party. Top-rated catering services offer comfort and smooth transport of food at the party time and avoid the last-minute hassles.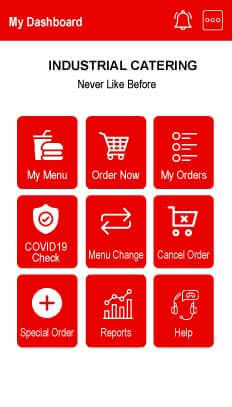 How the Industrial Catering App can benefit your organization?
You can pick the best industrial caterer in the city through deep analysis and data using the App.
You can customize your menu set at any time according to your employees' tastes.
Order Management can be done easily with just a few clicks
The real-time analytical report gives the covid-19 checks, expected delivery time, food preparation status, and a lot more.
Through App, you can experience zero communication gap from order placement to delivery completion.
Special order requests can be made during special events at your organization.
Using the app, order feedback can be fed to elevate the service and food quality to the next level.